Recently, you may have seen I have started drying and smoking my own chillies. This is a great way of getting a longer shelf life out of an abundance of chillies whilst simultaneously adding flavour and holding in the spice. This has resulted in our kitchen being filled with a multitude of dried crispy nuggets of heat.
I decided to use these chunks of hotstuff to make some homemade sauces. A touch of tangy, spicy Harissa is perfect for so many dishes and really livens everything up - whether cooked out for a tagine, used as a marinade on a pork chop or a piece of steak, or simply added to couscous as part of a salad with a splash of oil and vinegar, it is an extremely versatile sauce.
Delicious fresh Scotch Bonnets
I made two different varieties: one that is hot yet sweet, and another which is hot yet hotter.
Sweet Hot Harissa
2 red peppers
1 fresh Scotch bonnet
2 dried Scotch bonnets
2 cloves garlic
1 teaspoon coriander seed
1 teaspoon black pepper
1 teaspoon cumin seed
Lemon juice
Olive oil
Hot Hottest Harissa
5 fresh Scotch bonnets
3 dried Scotch bonnets
3 cloves garlic
1 teaspoon coriander seed
1 teaspoon black pepper
1 teaspoon cumin seed
Salt
Lemon juice
Olive oil
Recipe
The method for both sauces is the same, with the only difference being leaving out the red peppers and adding more Scotch bonnets to make the hotter variety.
Clockwise: Roasting, Steaming, Peeling, Chopping
To start the sweet Harissa, the red peppers need to be prepared. Over a gas flame, chargrill the outer skin of the peppers until blackened and softened. Place the peppers in a polythene bag for a couple of minutes, and they will steam slightly, which will allow the skin to be removed more easily. The peppers will now have become sweet and tender: chop them roughly and place them into a blender. Simply miss out this stage if you want to make the searingly hot version.
Now focus on the chillies. Soak the dried chillies in a little boiling water to soften them a little. Remove the stalk from the fresh Scotch bonnets and then boil in water for 2/3 minutes... this will take a slight bitterness off the chillies. Remove them from the water and add to the blender, along with the garlic. If you want to soften the heat then remove the seeds from the chilli before blanching (you might want to wear plastic gloves). Then blend with the strained dried chillies (keep the water behind for later).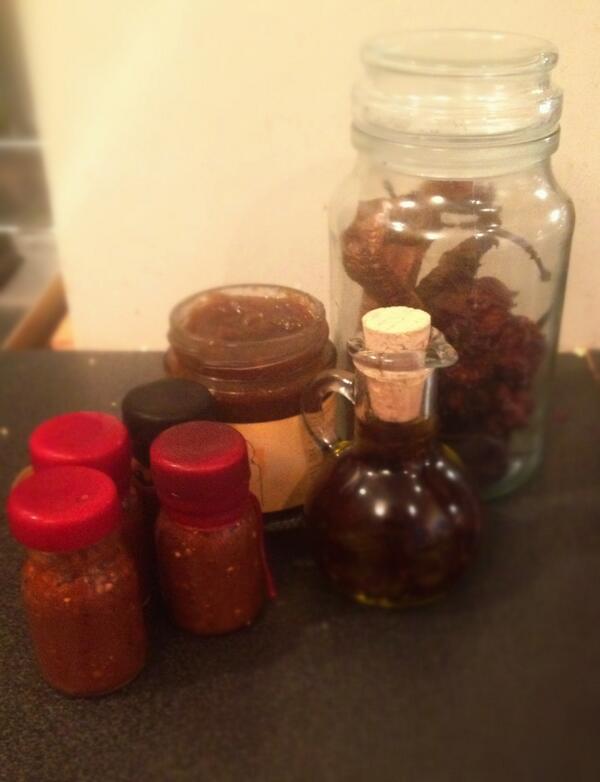 The finished product with a gratuitous chilli oil.
Toast off the whole spices until you get a small smoke off them, then add the spices to the blended chillies. Add the juice of a lemon to mix with a pinch of salt if needed. If the mix looks a little thick, add some of the water used to soak the dried chillies and a splash of olive oil.
The sauce will keep for two weeks in a sterilised container in the fridge, and will last even longer if you take care to keep a layer of oil covering the sauce, preventing any air getting into the spiced joy below.
Enjoy,
Jim.